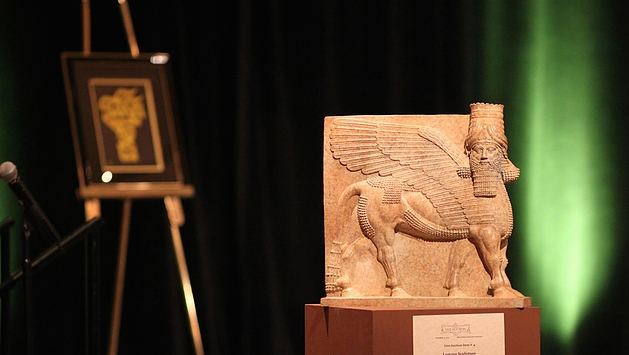 Saturday November 7 2015, 6PM – 11PM
Where: Ritz-Carlton Hotel, San Francisco
Tickets: Individual tickets start at $325
In 2015 Narsai's Taste of the Mediterranean returns to a newly remodeled Ritz-Carlton Hotel in San Francisco.
In addition to the champagne and hors d'oeuvres reception, three course dinner with wines, a live auction, and a special video presentation, the featured speaker will beThomas Farr, PhD, Associate Professor of the Practice of Religion and World Affairs at the Edmund A. Walsh School of Foreign Service, Georgetown University. Professor Farr directs the Religious Freedom Project and the Program on Religion and US Foreign Policy at Georgetown's Berkley Center for Religion, Peace, and World Affairs, where he is a senior fellow.
Once again free bus service will be provided from San Jose and Modesto/Turlock, courtesy of Ray Sargon, Super Sightseeing Tours, and Gray Line of San Francisco. Seating is limited so make your reservations early!
To purchase tickets or for more information, call 510-527-9997.
Proceeds from Narsai's Taste of the Mediterranean support Assyrian Aid Society humanitarian projects in Iraq.
Ticket purchase price is tax deductible minus $100.
About Narsai's Taste of the Mediterranean
The Narsai's Taste of the Mediterranean fundraising dinners were inaugurated in San Francisco in 2002 to raise urgently needed funds for the humanitarian projects of the Assyrian Aid Society of America.
Quickly becoming the annual event on Assyrian social calendars and drawing attendees from around the country, these dinners have so far generated over $1,000,000 for the 9,000-student Assyrian school system in north Iraq and relief programs for tens of thousands of internally displaced Assyrian families during and since the Second Gulf War.
The very first night saw chefs from Egypt, Lebanon, Italy, Israel, and France join to create an unforgettable menu of Middle Eastern and Mediterranean cuisine paired with wines from Assyrian-owned Napa Valley wineries. This tradition of fine dining continues.
Featured speakers have included the late Dr. Donny George, Chairman of the Board of State Antiquities in Iraq; U.S. Representative Anna Eshoo; and other Assyrian scholars, artists, and politicians.
The evenings have also featured presentations of Assyrian dance, traditional Assyrian folk music, and contemporary music by the most popular Assyrian singers.
The namesake and host of the Narsai's Taste of the Mediterranean dinners is Narsai David, chef and restaurateur who is acknowledged to be one of the founders of California cuisine and for the past 28 years has been the Food and Wine Editor at KCBS in San Francisco. A second generation Assyrian American raised in the California Central Valley, he is a past President and Chairman of the Board of the Assyrian Aid Society of America.
Sitting and past Mayors of San Francisco attend Narsai's Taste of the Mediterranean, with Mayors Gavin Newsom, Ed Lee, and Willie Brown, Jr. all having also lent their names to the dinners' Honorary Committees. Other political names on the Honorary Committees have been U.S. Senators Barbara Boxer and Diane Feinstein and U.S. Representatives Nancy Pelosi, Anna Eshoo, and Dennis Cardoza.
Narsai's Taste of the Mediterranean continues to be a very special occasion. But this popularity and success isn't just about the food and the wine and music. The 'secret ingredient' is the Assyrian community itself that comes together to celebrate its heritage and its culture, to gather with family and meet with old friends, and, most importantly, to support the Assyrian Aid Society of America and help their fellow Assyrian Christians in Iraq who remain in peril every day, living on the brink of extinction.