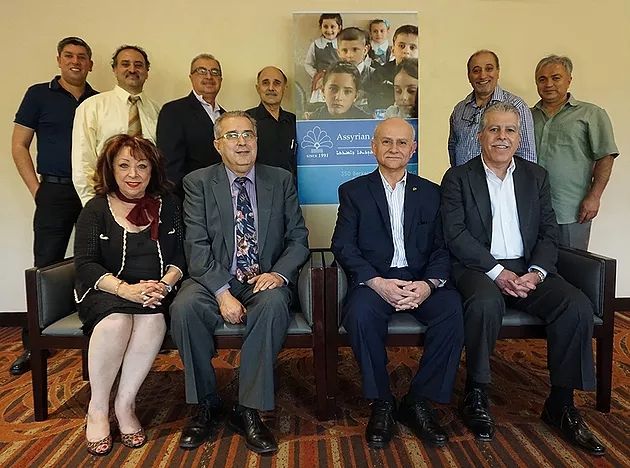 Phoenix, Arizona – Today the Board of Directors of the Assyrian Aid Society of America (AAS-A) met in Phoenix, Arizona to review the organization's performance over the past 12 months, set goals for the coming 12 months, and perform all necessary administrative duties required for non-profit California corporations.
Director and Chapter Liaison Peter Bityou (West Dundee, IL), who has been with AAS-A since 1992, was elected Vice President, replacing Mona Malik (San Francisco, CA) who assumed the newly created position of Special Projects Director to concentrate on raising the organization's public profile with non-Assyrian and government entities so as to procure more grants for needy Assyrians in the Middle East.
Sargon Alkurge (Modesto, CA), Dr. Rouel Georgis (Skokie, IL), Dr. Alex Malick (Granite Bay, CA), and Angie Toulakany (Encino, CA) were re-elected to new three-year terms as members of the Board of Directors.
AAS-A Treasurer Sargon Shabbas (Hercules, CA) presented the organization's 2015 Financial Summary, reporting that $2,220,464.00 had been disbursed for relief, education, and other humanitarian projects in Iraq in 2015. It was also noted that, given the organization's fixed low overhead and operating expenses, 95 cents of every dollar donated to AAS-A goes to its humanitarian projects in Iraq.
The meeting, also attended by AAS-A chapter presidents from around the country, formally recognized the 25th anniversary of the organization and their ongoing commitment to its mission and the Assyrian people.
The Assyrian Aid Society of America is a charitable 501(c)(3) non-profit organization dedicated to assisting needy Assyrians in Iraq and around the world. Since 1991 AAS-A has raised over $12 million in donations and grants to relieve refugees, build schools, staff and supply medical clinics, facilitate life-saving surgeries, rebuild homes, irrigate farmlands, bring electricity to rural villages, and implement a host of other vital programs and services. AAS-Iraq has been granted Special Consultative Status by the Economic and Social Council of the United Nations. In February 2016 the Assyrian Aid Society-Iraq was nominated for the Nobel Peace Prize.