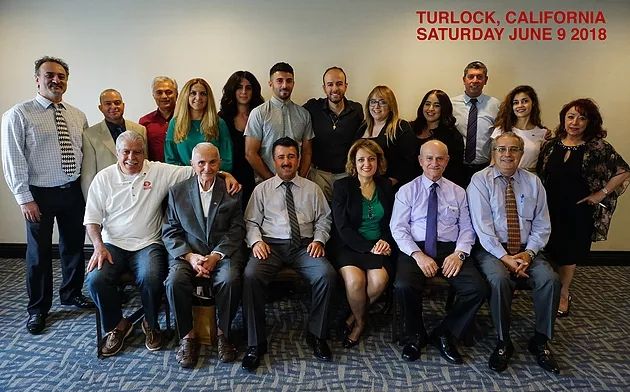 FOR IMMEDIATE RELEASE (Tuesday June 11 2018)
AAS-A BOARD OF DIRECTORS AND CHAPTER PRESIDENTS MEET IN TURLOCK
BERKELEY, CALIFORNIA: On Saturday June 9, 2018 the Board of Directors and Chapter Presidents of the Assyrian Aid Society of America met in Turlock, California to discuss current and future humanitarian projects, elect national officers, and perform required corporate business. Volunteers from the Central Valley and Arizona chapters were also on hand as non-voting participants.
At the official Board meeting as well as informal sessions, representatives from chapters around the country met to share their experiences and collaborate in devising more effective and efficient fundraising strategies, especially in outreach to non-Assyrian communities and the U.S. government. AAS-Iraq President Ashur Eskrya also joined the meeting via Skype to report on AAS-Iraq's activities over the past year and to answer questions from the Directors and Chapter Presidents.
Karmella Borashan, a Registered Medical Technologist and administrator in the San Francisco Bay Area, was unanimously approved to join the AAS-A Board of Directors. Ms. Borashan will lead efforts to target local and national non-Assyrian Christian churches for support.
Sitting Directors Robert Mulhim (Chicago Chapter), Fred Rustam (Arizona Chapter), Sargon Shabbas (National Office), and Ashur Yoseph (National Office) were unanimously approved for new three-year terms.
AAS-A President Ashur Yoseph formally introduced to the Board of Directors Ms. Shanette Khubiar who will be working with the AAS-A Executive Committee as a volunteer to supervise the organization's Public Relations and other communications operations in a concerted effort to better publicize the Assyrian Aid Society, its mission, and its accomplishments, especially via social media.
On Saturday evening the AAS-A Central Valley Chapter hosted a very successful Board of Directors Charity Dinner at the Assyrian American Civic Club of Turlock, featuring singer Yousip Albert Rouel and the Billy Band. Over 200 supporters were in attendance for dinner, speeches, and a live auction, signaling enthusiastic community support and new energy in the Central Valley Chapter's leadership.
"This weekend has been really inspiring for all of us," according to AAS-A President Ashur Yoseph. "It was great having so many young, professional Assyrians taking part this year and committing to the Assyrian Aid. I am very excited to see how they are going to take our work to a new level."
The 2019 spring meeting of the AAS-A Board of Directors has been scheduled for April or May and will be hosted by the Los Angeles Chapter.
Current Directors on the AAS-A Board: Sargon Alkurge (Central Valley), Natalie Babella (Santa Clara Valley), Peter Bityou (Chicago), Karmella Borashan (San Francisco Bay Area), Dr. Rouel Georgis (Chicago), Samuel Isaiah (Los Angeles), Tony Khoshaba (Santa Clara Valley), Dr. Alexander Malick (San Francisco Bay Area), Robert Mulhim (Arizona), Fred Rustam (Arizona), Sargon Shabbas (San Francisco Bay Area), Angie Toulakany (Los Angeles), and Ashur Yoseph (San Francisco Bay Area).
Current AAS-A Chapter Presidents: Renya Benjamen (Chicago), Napolyon Dankha (Arizona), Rosana Eyvaznehad (Santa Clara Valley), Mike Sana (Michigan), Stan Shahbaz (Washington D.C.), and George Somi (Denver).
###
AAS-A CONTACT: Michael E Bradley, Administrator
T: 510-527-9997
assyrianaid@assyrianaid.org