FOR IMMEDIATE RELEASE (Tuesday May 21 2019)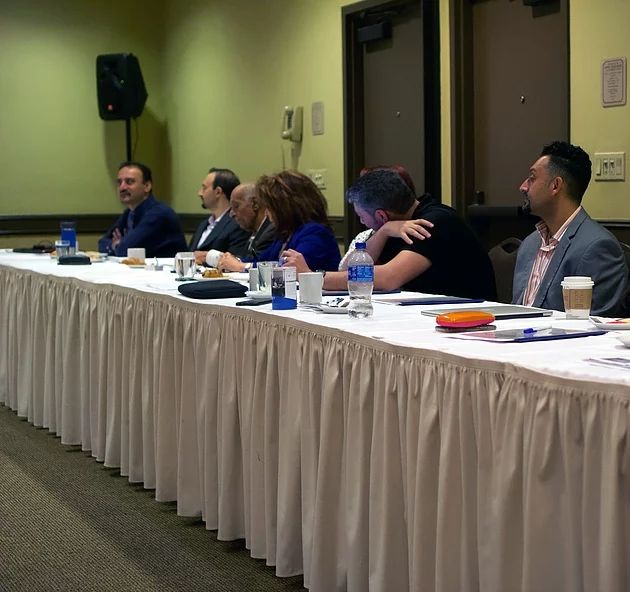 BERKELEY, CALIFORNIA: On Saturday May 18, 2019 the Assyrian Aid Society of America's Board of Directors met in Van Nuys, California and tapped AAS-A Director and Central Valley Chapter President Dr. Antoine Varani of Turlock, California to succeed current AAS-A President Ashur Yoseph in 2020.
Ashur Yoseph, who last month informed the Executive Committee of the Board of Directors of his intentions, will remain on the AAS-A Board for at least a year after stepping down as President.
"This transition has been several years in the making," according to President Yoseph. "From my first day as President in 2011, I've made a priority of recruiting and encouraging new young leadership to one day take over the organization. This year the pieces finally fell into place and we are ready to begin the change."
A second piece of the transition is the retirement of Vice President Peter Bityou.
"After lengthy and careful consideration, I have decided to retire from my position as Vice President and Director of the Assyrian Aid Society of America, and am ready to transfer my gavel to younger, more energetic individuals," Vice President Bityou wrote in a letter to the Board.
"Peter has been a confidante, a mentor and a friend throughout our years together at the Assyrian Aid, his counsel has been invaluable to me," Yoseph said. "He wanted to retire in 2018 but I talked him into staying one more year so that we could get everything prepared before we both stepped aside."
With the retirement of Peter Bityou, the AAS-A Board of Directors elected Director and former Chicago Chapter President Renya Benjamen as the new Vice President.
Dr. Varani and Ms. Benjamen, nominated by the Board's Executive Committee, were elected to their new positions by unanimous votes of the full Board of Directors.
Ms. Benjamen assumed her new title at the close of Saturday's Board meeting, while Dr. Varani will remain President-Elect until President Yoseph's official retirement at the
end of 2019, during which time President Yoseph will be actively mentoring Dr. Varani and Ms. Benjamen and actively including them in all aspects of organization management, decision-making, fund raising and fiduciary responsibility, and community integration.
"Dr. Varani and Ms. Benjamen are both skilled and successful young Assyrian professionals who are highly educated, love their people, and are wholeheartedly dedicated to the mission of the Assyrian Aid Society," said President Yoseph. "The future of this organization has never been brighter or more exciting."
The Assyrian Aid Society of America is a charitable 501(c)(3) non-profit organization dedicated to assisting needy Assyrian/Chaldean/Syriacs in north Iraq and around the world. Since 1991 AAS-A has raised over $14 million in donations and grants to build schools, staff and supply medical clinics, facilitate life-saving surgeries, rebuild homes, irrigate farmlands, bring electricity to rural villages and implement a host of other vital programs and services. AAS-Iraq has been granted Special Consultative Status by the Economic and Social Council of the United Nations.
###
AAS-A CONTACT: Michael E Bradley, Administrator
T: 510-527-9997